The Village Senior Residence Receives Most Trusted Senior Assisted Living Community Award
Missoula, Mont. (November 10, 2021) – The Village Senior Residence, a premier senior living community in Missoula, Mont., is proud to announce that they have been awarded the Most Trusted Senior Assisted Living Community for the 2021 International Life Sciences Awards proudly hosted by Global Health & Pharma Magazine (GHP-News).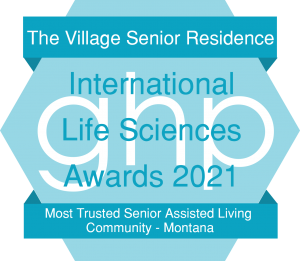 The International Life Sciences Awards aim to reward the dedicated innovators within this vital industry who work tirelessly in the background to ensure progressive innovations in animal science, genetics, genomics, biology, pharmacology, environmental sciences and more.
"We are honored to receive an International Life Sciences Award for the second year in a row," said Lindsay Martin, executive director at The Village Senior Residence. "Thank you to our residents and families who support our community. Thank you also to our talented team members who deliver exceptional service and care every day."
Nominations for this award are made by GHP-News and external sources including GHP magazine subscribers, web visitors, social media following, and clients. Nominating parties are invited to put forward either their own business or third-party companies whom they hold in high regard. Additionally, nominees are provided the opportunity to submit a short case file disclosing business details and previous accolades awarded.
The team at GHP-News assess all information presented to them and identifies businesses who are making strides within their industries. The GHP-News research team decides nominations based on various criteria such as great contribution to the global healthcare or pharmaceutical industries, product quality, sustained or continued growth, significant innovations, and feedback from patients and customers. With many still recovering from the adverse effects of the COVID-19 pandemic, GHP-News believes it is of the utmost importance to reward those who dedicate their professional lives to making everyday lives safer.
---